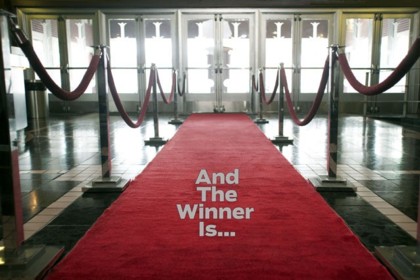 DC Film Society's 24th Annual Party
Watch the Oscars Broadcast ... LIVE ON THE BIG SCREEN!
It's the next best thing to being there!

Sunday, February 28, 2016

The Arlington Cinema 'N' Drafthouse
2903 Columbia Pike, Arlington, VA.
(1/4 mile east of Glebe Road)

Ticket sales start at 6:30pm. The doors open at 7:00pm and the Red Carpet pre-show starts at 7:00pm. The Oscars broadcast is at 8:30pm.


---
Forget About Super Tuesday and Celebrate Super Sunday for Film Lovers
Join in the fun at the DC Film Society's 24th Annual "AND THE WINNER IS..." Oscar Night Party

Will Leonardo DiCaprio get the recognition for heavyweight dramatic acting he craves for The Revenant or will Eddie Redmayne make it two in a row for the groundbreaking The Danish Girl? Will the amazing Brie Larson beat out superstars Cate Blanchett and Jennifer Lawrence for her heartbreaking performance in Room? You don't have to wait for November to find out. It's all going to be decided in just a few weeks and there's no better way to enjoy the festivities than at the Washington, DC Film Society's 24th annual "And The Winner Is…" Oscar night party that gives you lots more than just the show. So, don't be a couch potato. Join us for the 88th Academy Awards LIVE ON THE BIG SCREEN on Sunday, February 28, 2016 at the Arlington Cinema 'N' Drafthouse located at 2903 Columbia Pike in Arlington, VA. Ticket sales begin at 6:30 p.m. Doors open and the Red Carpet pre-show at 7:00 p.m. Oscars broadcast at 8:30 p.m.

Travis Hopson will be joining film critic regular Tim Gordon as hosts this year to guide you through the maze of nominees and, of course, conduct the "Joe Barber Predict The Winners" contest. BUT THERE'S MORE! You can place your bids at the Silent Auction (includes theater and movie tickets, plus movie posters and other items signed by visiting filmmakers and actors (see below for a sampling).

DC Film Society members had the opportunity to see 16 of the Award-nominated films first at free screenings throughout the year: Amy, Anomalisa, The Big Short, Bridge of Spies, Brooklyn, Carol, Creed, The Danish Girl, Ex Machina, Mad Max: Fury Road, Mustang, The Revenant, Room, Shawn the Sheep Movie, Spotlight, and Steve Jobs.

As always, this 24th annual event will be held in support of Filmfest DC, DC Film Society's parent organization.

Advance ticket ordering is now closed. Tickets will be available at the door.


---
TICKETS:
$20 for non-members and guests
$15 for DC Film Society Basic members and members of Women in Film and Video (WIFV)
FREE for DC Film Society Gold members.

E-mail your RSVP to membership@dcfilmsociety.org with your FULL NAME and Gold card number(s) by noon Saturday, February 27.


Door Sales:

Tickets may be purchased at the door the night of the event beginning at 6:30pm (cash/check only).


Advance Sales:

Advance sales are now closed but tickets WILL BE AVAILABLE AT THE DOOR.


Silent Auction 2016

Our SILENT AUCTION (cash/check only) includes restaurant, movie, comedy club and theatre gift certificates plus movie posters and other items signed by visiting filmmakers and actors: Patricia Clarkson (Learning to Drive), Paul Wentz (Grandma), 2016 Nominee Alex Garland (Ex Machina), Alfonso Gomez-Rejoin, Thomas Ann and Olivia Cooke (Me and Earl and the Dying Girl), Richard Gere (Time Out of Mind), Dan Fogelman (Danny Collins), and Jason Segel (The End of the Tour). Also theatre and event tickets, film passes, movie promo items from AFI Silver, Angelika Film Center, Arabian Sights Film Festival, Filmfest DC, Folger Theatre, Ford's Theatre, Landmark Theatres, Olney Theatre Center, Source Festival, Theater J and much more!


---

These were some of the items available in 2015:


Selma (best picture nominee) mounted poster signed by director Ava DuVernay and actor David Oyelowo

The Theory of Everything poster signed by actor Eddie Redmayne (best actor nominee)

Into the Woods (multiple nominations) poster signed by actors Emily Blunt, James Lapine, James Corden, Chris Pine, Tracy Ullman and director Rob Marshall

Love Is Strange poster signed by director Ira Sachs

St. Vincent poster signed by director Ted Melfi

Stone poster signed by Edward Norton (acting nominee)

Brundibar book signed by award-winning writer Tony Kushner (previous nominee)

Selection of DVDs and film items, Landmark, Angelika & Avalon Theatre movie passes, dining at Hank's Oyster Bar and The Pig, tickets and passes for Signature Theatre, Capital Fringe, Round House Theatre, WPAS (Philadelphia Orchestra), Washington Jewish Film Festival event, Filmfest DC opening night, Studio Theatre, Shakespeare Theatre Company, MetroStage, Olney Theatre Center, Synetic Theater.


---

These were some of the items available in 2014:


Philomena poster & press notes signed by actor/co-writer Steve Coogan (2014 nominee)

The Bling Ring poster & press notes signed by actor Israel Broussard

2 Days in Paris poster signed by actress/writer/director Julie Delpy (2014 nominee)

Her poster signed by director/writer Spike Jonze (2014 nominee)

Jobs press notes signed by actor Josh Gad and director Joshua Michael Stern

A League of Their Own DVD signed by director Penny Marshall

The Monuments Men book signed by author Robert Edsel

Body Heat & Romancing the Stone DVDs signed by actress Kathleen Turner

Selection of DVDs and film items, Landmark Theatres, West End Cinema & Avalon Theatre movie passes, tickets and passes for Arena Stage, the Source Festival, Round House Theatre, Woolly Mammoth Theatre, WPAS, DC Shorts event, Filmfest DC opening night, Arabian Sights Festival, Folger Theatre, Synetic Theater, Studio Theatre, Environmental Film Festival

---

Contact us:

Membership
For members only:

E-Mailing List

Ushers

Website

Storyboard

All Else