That Guy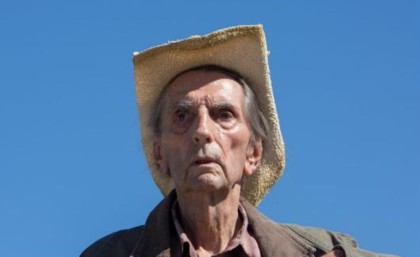 A couple of weeks ago DC's Landmark E Street Theater hosted an advance screening of Lucky, followed by a Q&A with director John Carroll Lynch. The film's star, longtime character actor Harry Dean Stanton, had died a few days before, making the screening a bittersweet occasion. During the Q&A, I asked Lynch about Stanton's legacy. He replied that "No one wasted less time" than Stanton, who "did exactly what he wanted to do" and that "everyone loved him." Lynch added that when Warren Oates, another noteworthy character actor, died in 1982, it only warranted a three inch story in the New York Times. By contrast, Stanton's death made it to the front page of the Times Arts section, with an extensive article.

Lynch made the comparison in no way to denigrate Oates, a mainstay in Sam Peckinpah films such as The Wild Bunch and Bring Me the Head of Alfredo Garcia who later played Sgt. Hulka in Stripes. Rather, it was to note how times have changed and how audiences' relationships with actors have changed along with them. Oates died during home video's infancy, when people were just gaining the ability to rewatch films repeatedly. Beforehand you could only see a film in theaters and maybe on television. As such, an audience would be more likely to focus on movie stars and less likely to remember others on screen. The limited film-related media would also be much more likely to be star-centered. If fans did cultivate an appreciation of the less famous actors, there were few opportunities to spread the word.

Now we can see films as many times as we like, allowing us to take in so much more, including "That Guy" actors. That label came about because you would recognize certain actors onscreen but not immediately be able to place their names – "Hey, it's ... That Guy." It's a more fun alternative to the "character actor" label. My wife pointed out that all actors, even major stars, likely consider themselves character actors, in the sense that they fully inhabit a character. However, the "That Guy" actors, maybe even more than movie stars, are the ones who add character, richness and depth to many of our favorite films. Much of the Harry Dean Stanton appreciations noted how his face would tell a story even without him saying a word. Perhaps we can also identify more with "That Guy" actors. They seem more like you and me, or, if not, at least someone you would be more likely to meet in real life than a movie star.

Of course now even the term "That Guy" may not be completely accurate, because moviegoers are learning their names. Besides rewatching their films, it's so much easier to find information about them online, and share appreciations through social media. Lynch noted that Stanton became the #1 trending Twitter topic on the day he died (and also added that Stanton wouldn't have cared).

It's a sign of the times that Stanton was the subject of a documentary, Harry Dean Stanton: Partly Fiction, in 2012 and last year was the first winner of the Harry Dean Stanton Award. It's another sign that only a couple of days before Stanton's passing the online film world mourned the death of another "That Guy" staple, Frank Vincent. He became best known for "The Sopranos," and like many in that cast, had earlier appeared in Martin Scorsese films, in his case Raging Bull, Goodfellas and Casino. Vincent's work in Goodfellas serves as a primary example of how an exemplary "That Guy" actor can make a huge impact in little screentime. He plays gangster Billy Batts, who relentlessly needles the hot-tempered Tommy (Joe Pesci). After Batts goes too far, Tommy and his friends brutally murder him, setting the stage for their own downfall. Vincent may be in only one scene, but it's a pivotal role in arguably the most pivotal scene in the movie. As Batts, he oozes both charm and arrogance, convincing as a man completely unafraid to rile Tommy. His signature line "Now go home and get your f-cking shinebox!" became a Jon Stewart staple and was reportedly printed on T-shirts.

You probably have your own mental list of "That Guy" actors. If not, you can find many lists online, including three on the Internet Movie Database: here and here and here Some of my favorites besides Stanton and Vincent include:
A couple of others who have passed in recent years include Brion James, best known as the replicant interrogated at the beginning of Blade Runner, and Kumar Pallana, a staple of early Wes Anderson films.

Anyone at the Lucky screening could not help noting how fitting it was that Lynch was the one who directed Stanton's swan song. Lynch is a remarkable "That Guy" actor in his own right, whether bringing warmth and decency to characters in Fargo and The Founder, or quiet menace to the likely serial killer in Zodiac. For his directorial debut, he clearly knew how to bring out the best in Stanton and his supporting cast. Lynch gives the actors space to work, keeping the camera on Stanton during many quiet moments, letting the man's looks and gestures do the work.

The best part about "That Guy" appreciation is that it's retroactive. Today's cinephiles have gone back to write and post about many actors that largely flew under the radar when they were alive. John Ford had a whole stock company of actors, such as Harry Carey (both Sr. and Jr.), Jane Darwell, Ward Bond, John Carradine, and Victor McLaglen, whom he turned to repeatedly. What would The Maltese Falcon or Casablanca have been without the larger-than-life Sydney Greenstreet? Thomas Mitchell was never a star, but did astounding work for directors including Ford, Frank Capra, Howard Hawks, and Fred Zinnemann. Thelma Ritter could deliver a wisecrack like no one else in films such as All About Eve, Rear Window, and Pickup on South Street. Strother Martin declared the immortal "What we have here is failure to communicate" in Cool Hand Luke, and also appeared with Paul Newman in Butch Cassidy and the Sundance Kid and Slap Shot. Local writer Orrin Konheim and I have been cross-blogging on the all-time best film ensembles here and here. We have both noticed how, in many cases, it's not the all-star casts, but rather some stars and a group of That Guy actors that form the most cohesive and effective group.

Turner Classic Movies, DVDs, and streaming have been godsends for many reasons. Internet film discussions and social media have been a double edged sword. But, taken together, if they have done nothing else than bring the scores of talented "That Guy" actors the recognition they deserve, than it's all worth it. And, by the way, remember Warren Oates, he who only got a short media blurb when he died. In 1993, Tom Thurman made a documentary about him, Warren Oates: Across the Border. Then in 2009 journalist Susan Campos wrote a comprehensive biography, Warren Oates: A Wild Life. From three inches to 536 pages. I hope somewhere Oates is smiling, while having a drink with his friend and co-star Harry Dean Stanton.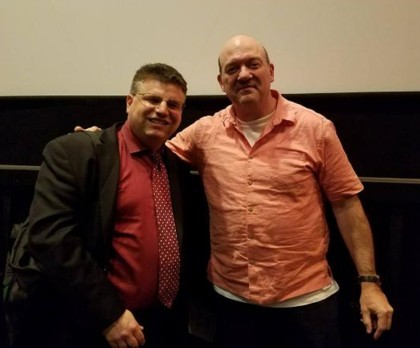 Actor-Director John Carroll Lynch and me.




Adam Spector
October 1, 2017


---
Contact us:

Membership
For members only:

E-Mailing List

Ushers

Website

All Else