COMING ATTRACTIONS
Summer Trailer Night 2014


---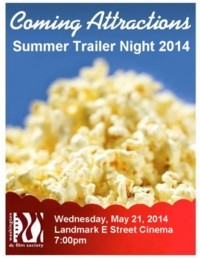 Wednesday, May 21, 2014
7 - 9pm
(tickets on sale at 6:00pm)

Landmark's E Street Cinema
E Street between 10th & 11th St, N.W.


MARK YOUR CALENDAR &
SHARE THIS WITH FRIENDS & CO-WORKERS!



---

Admission (New lower prices!): $5 for the general public. DC Film Society members: $3 for BASIC members and Free for GOLD members. Tickets sold at the door starting at 6:00pm (cash or check). Ticket includes lots of movie promotional items, movie posters and raffles of movie tickets and DVDs!

The Washington, D.C. Film Society holds its twice annual program to preview the upcoming slate of spring and summer blockbusters.

Hosts: DC's popular film critics and Film Society's hosts, Bill Henry and Tim Gordon, will titillate you with comments and maybe a quiz or two about the summer's upcoming blockbuster movies.

Prizes: There will be free promotional items and movie posters, movie ticket and DVD door prizes, and much more.

Voting: All attendees get to vote on the trailers to give feedback to the studios on what they're most looking forward to on the big screen.

TRAILERS TO BE SHOWN:

Some 30 trailers will be shown (plus a couple summer sneak peeks at the end). Trailers may include:
GODZILLA
MALEFICENT with Angela Jolie
New X-MEN
HOW TO TRAIN YOUR DRAGON
TEENAGE MUTANT NINJA TURTLES
PLANET OF THE APES
SIN CITY
EDGE OF TOMORROW with Tom Cruise & Emily Blunt
Sandler & Barrymore reuniting in BLENDED
Film versions of stage hits JERSEY BOYS & VENUS IN FUR
Seth MacFarlane's A MILLION WAYS TO DIE IN THE WEST
TAMMY with Melissa McCarthy
The Wachowski's futuristic JUPITER ASCENDING
HERCULES
Chad Boseman as James Brown in GET ON UP
And much much more!


---

Contact us:

Membership
For members only:

E-Mailing List

Ushers

Website

Storyboard

All Else