Last updated on January 31, 2015.


---
23nd Annual Oscar Party:
"AND THE WINNER IS..."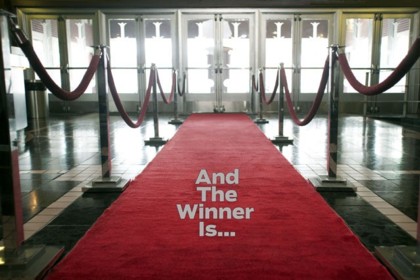 Will your favorite flick win? Join the Washington, DC Film Society at its 23nd Annual Party FUN-raiser, "AND THE WINNER IS…"! Cheer the stars with fellow film fans on Oscars Night! The fun starts Sunday, February 22, 2015 at our favorite locale, the Arlington Cinema 'N' Drafthouse, (2903 Columbia Pike, Arlington, VA). Doors open at [Time to be announced]; the one-hour, pre-Oscar show begins at [Time to be announced]

Advance sales are now open and tickets will be available AT THE DOOR.

More details here, including ticket ordering information. Tickets will be available AT THE DOOR.


A complete list of items in the silent auction will be available soon.


---
Join the DC Film Society!
Half-year memberships are available NOW for December 1, 2014-May 31, 2015. Go to our membership page to sign up.

Be a part of the movie buzz and join the DC Film Society. Enjoy advance preview film screenings, discounts to Filmfest DC and many more benefits including our annual "And the Winner Is" Oscars event and "Coming Attractions Trailer Nights."


---
The Best of 2014 - Voting Results
The membership has spoken! Washington DC Film Society announces the results for the 14th annual vote for the Best of 2014.

Best Film: Boyhood
Best Director: Richard Linklater, Boyhood
Best Actor: Eddie Redmayne, The Theory of Everything
Best Actress: Julianne Moore, Still Alice
Best Supporting Actor: J.K. Simmons, Whiplash
Best Supporting Actress: Patricia Arquette, Boyhood
Best Foreign Film: Force Majeure (Sweden)

Thanks to all who voted!

See the Best of the Year page for past winners.


---
Visit Us on Facebook
---
Storyboard Newsletter
Check out the monthly Calendar of Events in the Storyboard newsletter and see what film events are going on around town.

The January Storyboard is now on the website.


---
The Cinema Lounge
The Cinema Lounge is a film discussion group; meetings are held at Barnes and Noble, 555 12th Street, NW, second floor, special events area, on the third Monday of every month at 7:00pm.

The next meeting is February 16, 2015. The topic is "Oscar Reform: More Diverse Nominees, New Categories, Etc. What Changes Would You Like To See?"


---
NEW - Press Materials
Mission Statement and Fact Sheet


---